產品 Products > 特別吸塵機 Vacuum Cleaner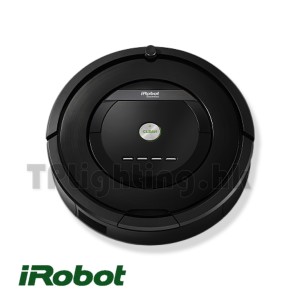 iRobot Roomba® 880 Vacuum Cleaning Robot (Discontinued停產)
Brand: iRobot U.S.A.
IROBOT ROOMBA® 880 FULL SPECIFICATIONS
Roomba 880 provides a focused, multi-room cleaning, every day. Roomba 880 uses the AeroForce® 3-Stage Cleaning System and Tangle-Free AeroForce® Extractors and is proven to remove up to 50% more* dirt, dust, hair and debris from all floor types.
Just press CLEAN and Roomba gets on with the hard work. It seamlessly navigates around clutter to clean any room and under most furniture. Roomba 880 detects high concentrations of dirt, dust and pet hair and performs focused cleaning where it's needed most.
Roomba 880 is helpful for pet owners and it's also virtually maintenance-free. You don't even need to be at home to do the cleaning! Roomba can be preset to vacuum up to seven times per week.
Roomba 880 includes two Virtual Wall® Lighthouses which keep the robot cleaning in one room, then sends it off to tackle the next room.
Smart – Seamlessly Navigates Around Clutter
Detects dirt and debris and concentrates extra cleaning effort where it's needed most.
Maneuvers under and around most furniture, beds and curtains.
Sweeps along wall edges.
Avoids stairs, obstacles and loose wires.
Has a full bin indicator to let you know when the bin needs to be emptied.
Simple – Less Maintenance Hassle
Tangle-Free AeroForce Extractors incorporate a durable rubber tread design that grabs dirt while reducing hair tangles and brush maintenance.
Less frequent maintenance and cleaning of the robot.
iRobot XLife™ Battery delivers twice as many cleaning cycles as previous Roomba batteries, doubling the time before a replacement battery may be needed.**
Clean – AeroForce® 3-Stage Cleaning System
Delivers up to 50% more cleaning performance.*
5x more powerful vacuum than previous Roomba models.*
What's In The Box:
1 iRobot Roomba 880
1 iRobot® XLife™ Extended Life Battery
2 Virtual Wall Lighthouses (batteries included)
1 Integrated Home Base
1 Remote Control (batteries included)
1 Extra AeroForce® High-Efficiency Filter
1-Year Manufacturer's Limited Warranty On Robot, 6-Month Manufacturer's Limited Warranty On Battery
Specifications:
Package Dimensions: 20.5 x 5.5 x 16.5 inches
Package Weight: 12.9 lbs.
Robot Dimensions: 13.9 inches in diameter, 3.6 inches in height
Robot Weight: 8.4 lbs.
* Compared to Roomba® 600 and 700 series AeroVacTM Systems.
**Roomba runtime remains the same between recharges. Battery lifetime varies with usage and home environment. Use Roomba as directed for longest battery life.
The iRobot limited warranty shall not apply to failures or problems which are caused by products or equipment not authorized by iRobot Corporation.
Country of Origin:China