折扣!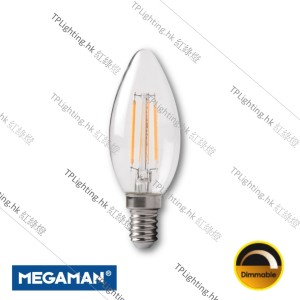 LC2205dCS-27 LED 5W (40W) Filament B35 E14 2700k Dimmable
Brand: Megaman 曼佳美
Download Specification Sheet
Product Code:
LC2205dCS-E14-2700K-V0240
Electrical Data
Voltage (V) 220-240V
Power Factor (λ) >0.5
Starting Time (sec) 1,000,000
Mercury Content (mg) N/A
Weight (g) 13
Application Hospitality, Residential
Performance Data
Total Luminous Flux (lm) 470
Rated Life (hrs) 15000
Lumen Maintenance at the End of Lamp Life (%) ≥70
Product Dimensions
Diameter (mm) 35
Length (mm) 96
Width (mm) N/A
Height (mm) N/A
Remarks
The rated wattage, rated lamp life and rated luminous flux are equivalent to their nominal values, which show on the product packaging.
Technologies
* 
Being able to adjust your LEDs with wide selection of dimming range from 100% to 10% or 20% for perfect atmosphere and/or scene setting – warm and bright, dim and cozy.